Inspiration "Natur"

at Gallery quilt star – Sophie Maechler
Basler Str. 61, im Viktoriahaus, 79100 Freiburg
with work of Cas Holmes, Monika Schiwy, Isabelle Wiessler, Sophie Maechler

From 07.07.2017 until 31.10.2017
Cas Holmes (GB) an english textile artist has proposed to exhibit together. As theme we have chosen "inspiration nature". Each one of the artists has already worked with this theme and has interpretated in an individual way.
_____________________________________________________________________________
Small Collages

at gallery BW- in Bad Bellingen
At the gallery of Barbara Wartenberg are some of my small collages and transfer images on wood exhibited.
Opening hours: monday till thursday from 3 – 6pm and /or making an appointment

Galerie BW
Barbara Wartenberg
Rheinstrasse 15
79415 Bad Bellingen
07635 – 8714
---
Exhibition at Nadelwelt 2017

Quilts & Collagen"
from may 5th to 7th, 2017
at the fair Karlsruhe, Rheinstetten
---
Exhibition at Textile Art in Berlin

Quilts & Collagen"
from june 24th – 25th 2017
at PHORMS Campus Berlin Mitte, Ackerstr. 76, 13355 Berlin
Streetart-Impressionen
---
Invitation to Riccione – Italy
Quilt Italia has invited me to their 20th anniversary – meeting for an exhibition.
I was honoured and followed the invitation.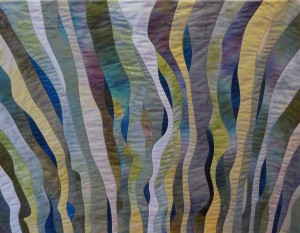 From 29th to 31st of january 2016
I could present my work at  Hotel Mediterraneo in Riccione. On the evening of 29th of january I have done a power-point-presentation with my work.

I thank the organisation of Quilt Italiafor their perfect  organisation and their hospitality.
---
"Quilts & Collages"
with art work from
Sophie Maechler & Monika Schiwy-Jessen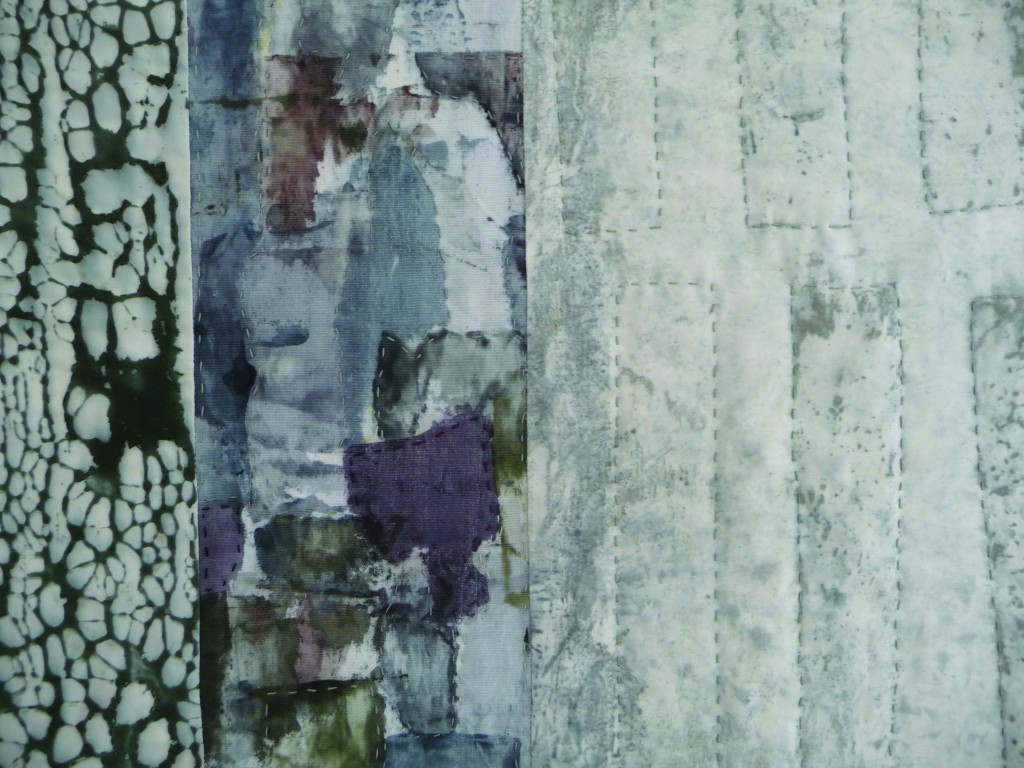 "The colours of rain" (Monika Schiwy-Jessen)
From oct. 1st, 2015 until jan.26th 2016 
at the Institut for diagnostic radiology- IDR, Gartenstr. 28, 79098 Freiburg
opening hours: monday till friday: from 7am to 6pm

The exhibition can be visited at the opening hours of IDR. Please register at the reception when visiting the exhibition. The exhibition is in ground and 1. Floor.
At the website of IDR you find directions to Gartenstr., Freiburg
Sophie Maechler has discovered her passion for textile art when she was a child with her mother, who already created textile art. Also her professional education at a fashion school in Paris with special training for theatre design costumes has build the foundation for textile art.
She gets her inspiration from nature but is also faszinated from old material, which show marks of time. She likes to work also with paper which she integrates into her work.
Monika Schiwy-Jessen has started how many other textile artists with traditional patchwork and quilting. Thorugh the contact with other textile artists she very soon started to design her quilts herself.
Since 1997 she freely designs quilts and collages and works with mixed media techniques.
The technique of collages gives her greet freedom in her textile arrangements. She prints with different printing techniques, like silkscreening, monoprinting and treansfertechniques from paper to fabric.
She gets her inspiration from nature and from images she finds in newspapers and magazines.